Book your Madhyamam Newspaper Classified Ads Instantly Online :
Book your Madhyamam Newspaper Classified Ads Instantly Online :
Online Newspaper Ad Booking
Lowest Ad Rates
Save Upto 50% via Discount Packages
Instant Confirmation & Release
Select your Category for Madhyamam Classifieds below :
CLASSIFIEDS
---
---
Frequently Asked Questions
FAQ
---
Ad Formats in Madhyamam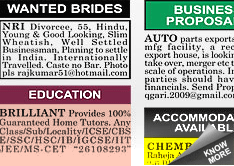 Simple text format of advertisements charged on the basis of the number of words, lines or characters used in the ad matter. Enhancements like a tick, border, color, and bold fonts can be used in this pocket-friendly and economical form of advertisement.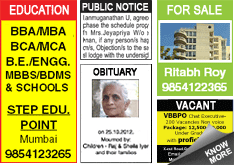 A better way to exhibit advertisements in newspapers which include catchy graphics, image, logo, colour, fancy font making ads more visible to the readers. This great way of advertisement that helps the advertisers to grab the attention of the target audiences is changed on the basis of per sq.cm unit.
Why advertise in Madhyamam Classified?
WHY ADVERTISE?
---
Planning to place classified ads in Madhyamam newspaper?

Know more about the benefits of placing classified ads in the platform of Madhyamam newspaper from releaseMyAd!
The quality content of this newspaper gratifies the readers and that leads to a huge readership figure, hence your advertisement in Madhyamam shall gain the desired attention.
The wide coverage helps the advertisements to reach every corner of the country.
The economical rates and the special offers for advertising under various formats such as simple text, displays, quarter page or full page advertisements suits every advertiser.
The exclusive ad booking packages that cover multiple locations help the advertisers to reach out to a larger number to audiences.
The easy deadlines help advertisers to book ads in the shortest time span and facilitate in instant ad booking.
Releasing ads in Madhyamam newspaper for classified categories like Matrimonial, Recruitment, Property, Obituary, Announcement, Travel etc. has been simplified further with the help of the internet. Now you can confirm the release dates and get your ad published instantly with releaseMyAd, the Authorized Online Ad Booking Agent of Madhyamam!
Madhyamam Classified Ad Rates :
Madhyamam Classified Ad Rates :
Location
Circulation
Cost
View Details

Edition:

Malappuram

Ciculation:

148,657

copies

Price:

Rs.

450

/10 Words

Edition:

Calicut

Ciculation:

127,942

copies

Price:

Rs.

450

/10 Words

Edition:

Kottayam

Ciculation:

127,531

copies

Price:

Rs.

450

/10 Words

Edition:

Kochi

Ciculation:

28,986

copies

Price:

Rs.

450

/10 Words

Edition:

Trivandrum

Ciculation:

22,642

copies

Price:

Rs.

450

/10 Words

Edition:

Kannur

Ciculation:

19,512

copies

Price:

Rs.

450

/10 Words

Edition:

Bangalore

Ciculation:

18,789

copies

Price:

Rs.

450

/10 Words

Edition:

Trissur

Ciculation:

17,222

copies

Price:

Rs.

450

/10 Words
Advertisement Section
Publishing Days
Booking Deadline
Madhyamam Classified
Sunday,Monday,Tuesday,Wednesday,Thursday,Friday,Saturday
3 day(s) Prior
Ad Categories: Matrimonial, Property, Recruitment, Public Notice, Obituary, Education etc.
How to Book Classified Ad in Madhyamam Newspaper ?
BOOKING PROCESS
---
How to advertise in Madhyamam instantly online for real estate, matrimonial, recruitment and other categories: -
Select your Location/ Package & Ad Type for your classified ad.
Compose your Madhyamam classified along with live preview
Select Release Dates & Make Payment for booking confirmation via online & offline mediums.
On successful payment, you receive an auto generated invoice from the system confirming your Classified Ad booking . Then post editorial approval your newspaper advertisement for Madhyamam is merged into their printing system for release in your chosen dates.
Madhyamam Advertising Systems have been integrated with our service to ensure consistency in flow and date availability. All payments for classified on the site are handled securely through SSL protection for greater security. So you can pay via credit cards/ debit cards, net banking, NEFT/ Wire Transfer & Cheque options .
Madhyamam is a leading Malayalam daily newspaper .
Online booking eliminates the hassle to find and contact Madhyamam classified agents & enables instant processing. Choose to pay for your Madhyamam advt via online / offline methods including cash collection from home. Now placing ads in Madhyamam classifieds can be done easily through releaseMyAd's online booking center without visiting Madhyamam's office.
You can choose to publish an Advertisement in Madhyamam via any of the following formats :-
Classified Text: These ads are printed on Madhyamam's classified pages in run on words format. Some advertisers also prefer adding enhancements like screen, tick, color for extra visibility. These classified Ads are popularly booked for Sunday matrimonials, property, real estate, change of name, lost & found, astrology categories.
Classified Display: These Ads enable usage of pictures / logos and allow customized font sizes. Display Ads can be booked both in Madhyamam for colour and Black & White. Display Madhyamam classified ads are more expensive then text ads and can be composed directly online via the usage of templates without the help of any Madhyamam ad agency. Experienced advertisers can also upload their Ads in PDF/JPEG/EPS – and just specify the dimensions of the Madhyamam ad for instant booking. The width of this Add is fixed at a maximum of 1 column. Ideally suited for Recruitment, Business, Obituary, Education, Tenders, Public Notice advertisers.
Since Madhyamam is published in English. You can choose to compose your advertisement both in English or English as per your convenience. Should you want the complimentary language transalation service for your classified ad, kindly specify the same during the booking process.
Advertise in Madhyamam Classifieds in the simplest way!
About Madhyamam
Worried about getting contacts, rates, deadlines and manual booking procedures for your Madhyamam classified ads? Your search ends here- Now you can book Madhyamam newspaper classified text and display ads via releaseMyAd - India's largest newspaper ad booking portal. Just 3 simple steps and your ad is booked for the scheduled date.You can avail the best rates and discount packages for your Madhyamam classified ads only at releaseMyAd. Get started !